Archive of the Classis Amsterdam: Letters from the Cape
The Classis Amsterdam was the regional assembly for local church boards of the Dutch Reformed Church in the region of Amsterdam. During the VOC (Dutch East India Company) period, the church boards of the overseas territories, also fell under the jurisdiction of the Classis Amsterdam. Amongst these were the church boards at the Cape of Good Hope, Batavia, New York and Pennsylvania, etc.
The transcriptions published here will concentrate on letters received from the Cape of Good Hope with an emphasis on the early years, before the Cape of Good Hope had a permanent clerical presence in the form of Rev. Joan van Arckel in 1665. The letters covering the period from 6 April 1652 to 14 May 1663 are of particular genealogical interest, as they recorded the baptisms and a large part of the marriages before the first register was made by Rev. van Arckel.
The archives of the Classis Amsterdam are kept at the Stadsarchief Amsterdam in the Netherlands in the Inventory 379. The letters from the Cape reside in 3 volumes, inventory numbers 206 to 208 (Ingekomen stukken betreffende kerklijke zaken op Kaap de Goede Hoop, 1655-1792) as follows:
206: 1655-1747 (471 pages)
207: 1748-25 Feb 1773
208: 1772-1792
A part of the first page from this archive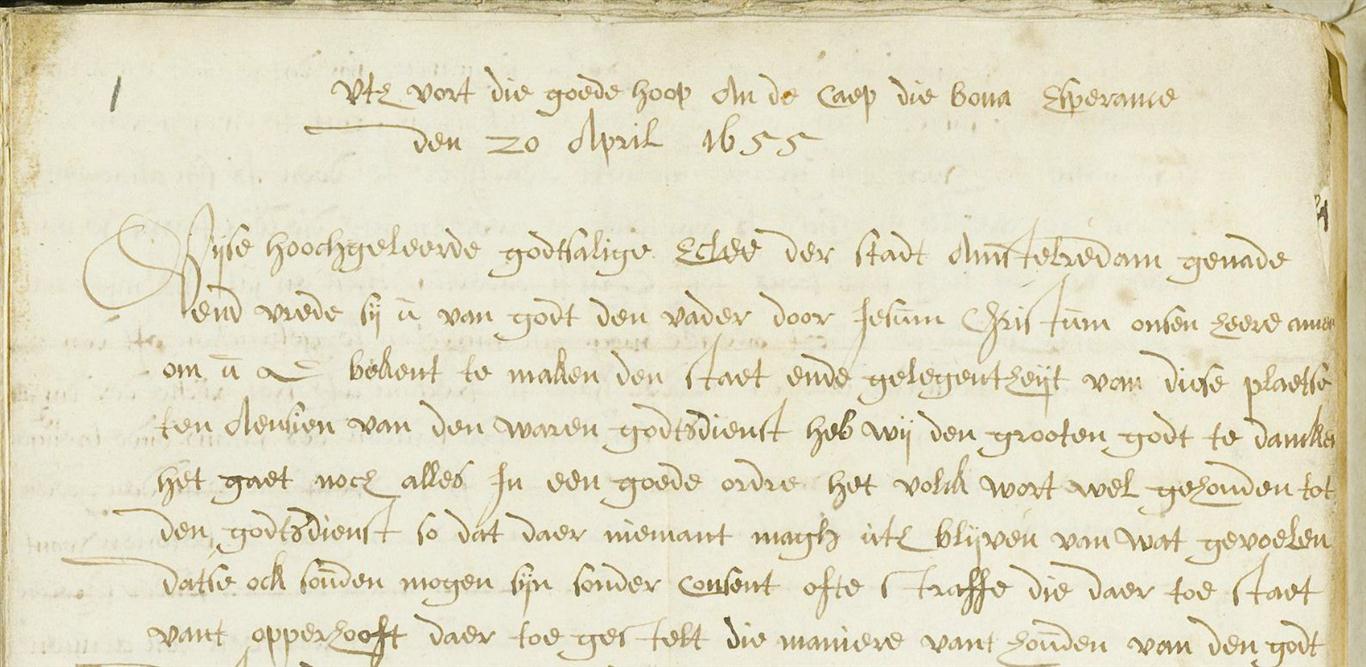 Source: Archief van de Classis Amsterdam van de Nederlandse Hervormde Kerk: Ingekomen stukken betreffende kerkelijke zaken op Kaap de Goede Hoop,1655 -1792, archiefinventaris 379, inventarisnummer 206, p. 1.
Subcategories