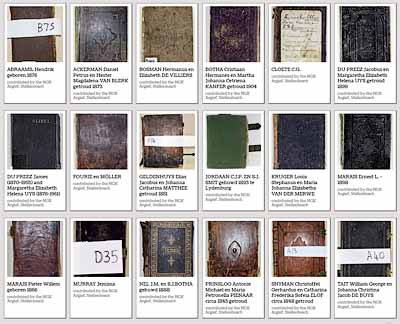 Keith Meintjes writes: When I visited the Nederduits Gereformeerde Kerk Archive at Stellenbosch in 2016, Isabel Murray gave me a tour of all the stuff in their basement. They have all manner of things in addition to the church registers - 370 years of church history. One thing that caught my eye was a pile of Bibles since many people wrote their family information in their Bibles. Isabel told me they had many Bibles, all uncatalogued, that no one had ever looked at.
So, we cooked up a project. Isabel found a student, and I bought them a camera, lenses and a tripod, and paid for the student's time to catalog and photograph the Bibles. The outside, the title pages, and any handwritten notes or newspaper clippings.
I supported the student's time, and he spent his senior year doing the work. Towards the end, he was being interviewed on TV and radio about the importance of preserving the archives and family history.
He photographed and catalogued 375 Bibles, of which 58 had inscriptions of some sort. Of those 19 had family information and those 19 have been added to the eGGSA Bible Collection, with grateful thanks to Keith for his project and enthusiasm, to Isabel Murray and Andrew Kok and to the anonymous student who did the work.