Muster Roll of the free settlers at the Cape of Good Hope
for the year 1695
General Introduction to the Muster Rolls
Stellenbosch
Drakenstein
Cape
Introduction
The muster roll I have copied here is that of the Free Settlers dated 1695, Cape Archives VC 39, volume 1, pages 142 to 158. No date of compilation is noted, but most of those which are, have a date at the end of the year. It is divided into the three districts of the Cape at that date, and contains names of wives and numbers of children in the form of a number and the abbreviation k. (kinderen).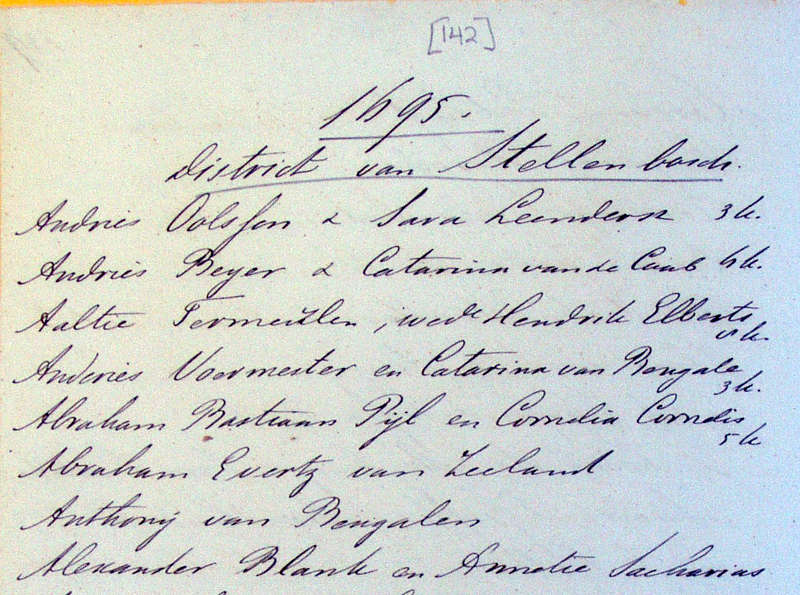 G.C.de Wet1 states that the muster rolls of 1695 list the number of Free Settlers as: 406 men, 186 women and 444 children Officials: 711 men (women not given).
These rolls, as they appear in these transcripts, are lists of names. Where married people are concerned they are usually listed as a couple, though there are years when no wives are listed. In some years the number of children in the household is also noted, in others not. Some have a date when they were compiled, others merely a year. Not every year is represented.
Where a date of compilation is given, this is often towards the end of the year.
My knowledge of the history and purpose of these documents is sketchy and my attempts to obtain information have so far not been very productive. I have not yet been able to examine the documents from which the Cape copies were transcribed.
Richard Ball © 2005
1. Die Vryliede en Vryswartes in die Kaapse Nedersetting 1657-1707, deur G C de Wet, Historiese Publikasie-Vereniging, 1981, pages 13 and 17.