Muster roll of the free settlers at the Cape
compiled 31st December 1712
General Introduction
Stellenbosch
Drakenstein
Cape
Introduction
The muster roll I present here is that of the Free Settlers compiled on 31st December 1712, Cape Archives VC 49, pages 244 to 268. It is divided into the three districts of the Cape at that date, and contains names of the free people, that is those not in the employ of the Dutch East India Company.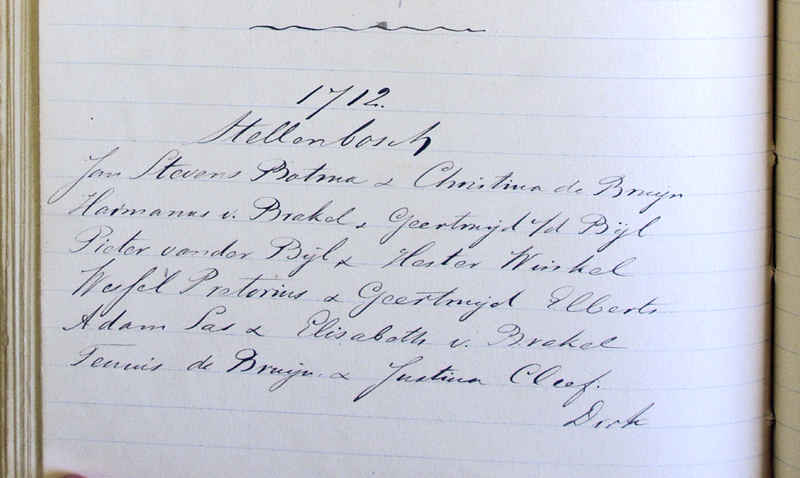 The start of the roll for 1712, on page 244 of Volume VC 49, compiled at the end of December.
In his History of South Africa 1652 to 1795 G.M.Theal, the transcriber of these muster rolls, writes:
[According to the muster roll of 1712] the number of colonists - men, women and children - was one thousand nine hundred and thirty-nine.
[By 1712] immigration from Europe had practically ceased. Occasionally a family from abroad was added to the burgher population, but the increase of the colonists was now due chiefly to the excess of births over deaths and to the discharge of servants of the Company. Cattle farmers were pushing their way from the land of Waveren down the valley of the Breede River and from Hottentots Holland eastward along the course of the Zonderend.
The town in Table Valley was growing also. It had not yet become the custom to call it Cape Town, it being usually termed the Cape, or sometimes the town at the Cape. [At the beginning of this year] the town contained about one hundred and seventy private houses, besides the buildings belonging to the Company.
These rolls, as they appear in these transcripts, are lists of names. Where married people are concerned they are usually listed as a couple, though there are years when no wives are listed. In some years the number of children in the household is also noted, in others not. Some have a date when they were compiled, others merely a year. Not every year is represented.
Where a date of compilation is given, this is often towards the end of the year.
My knowledge of the history and purpose of these documents is sketchy and my attempts to obtain information have so far not been very productive. I have not yet been able to examine the documents from which the Cape copies were transcribed.
This particular roll, however, may offer a clue. At the end appears the following entry with note:

I read this as follows: NB . deze 2 personen behooren onder Stellenbosch en sijn schoonse behoorlik gevaarschout bennen op de behoorlijke tijt niet verscheenen. Werner Uys has very kindly provided me with the following translation: N[ota] B[ene]. these 2 people belong under Stellenbosch, and were clearly sufficiently
warned, did not appeared at the right time.
This suggests that notification of the muster were sent out and people turned up to be counted. I still do not know for what purpose, but we are another step forward. Any further information will be most welcome.
Richard Ball © 2006